Coronavirus Updates
As we all work together to mitigate the impact of the coronavirus, I wanted to share some important resources that will help keep you and your loved ones healthy and safe. As always, my staff and I are here to answer any questions you might have. Please don't hesitate to contact us at any time.

LISTEN: Congressman Johnson's Telephone Town Hall on the Coronavirus

CORONAVIRUS AID, RELIEF AND ECONOMIC SECURITY (CARES) ACT
On March 27th, the House approved the Coronavirus Aid, Relief, and Economic Security (CARES) Act. Later that day, it was signed into law by President Trump. The CARES Act provides necessary resources to healthcare providers and patients; and relief to American workers, families, small businesses, and industries. CLICK HERE to learn more about the how the bill will help Louisianians impacted by the coronavirus.
 
ECONOMIC IMPACT PAYMENT
With the passage CARES Act, a tax rebate of $1,200 will be sent to each adult with a valid Social Security number and an additional $500 for each child in a household. Social security beneficiaries who did not file for taxes in 2018 and 2019 will also receive the full $1,200 rebate.
Adults with an income of $75,000 or below, heads of households with incomes of $112,500, and joint filers with an income of $150,000 are all eligible to receive the full rebate. Rebates phase out for individuals with an income above these thresholds up to $99,000, $198,000 for joint filers. Anyone above those thresholds will be phased out completely. Your income level is based on your 2019 tax returns or 2018 tax returns if you have yet to file your 2019 taxes.
Those with direct deposit will receive their checks in as soon as this week. Those who have their checks mailed will see them in 2-3 weeks. If you have not received your direct payment, you can visit https://www.irs.gov/ to fill out your direct deposit infomation to receive your Economic Impact Payment faster. 
Caution, be aware of possible scammers. The IRS will not call or email you to verify or request your financial information for you to receive you Economic Impact payment. If you have received possible scam messages or emails, forward them to phishing@irs.gov. You can find more information about scammers here. 
**HELP FOR LOUISIANA SMALL BUSINESS OWNERS**
With the passage of the CARES Act, Congress has approved the Paycheck Protection Program (PPP) to provide a direct incentive for small businesses to keep their workers on payroll by providing each small business a loan up to $10 million for payroll and certain other expenses.
If all employees are kept on payroll for eight weeks, SBA will forgive the portion of the loans used for payroll, rent, mortgage interest, or utilities. Up to 100 percent of the loan is forgivable.
Businesses – including eligible non-profits, Veterans organizations, Tribal concerns, sole proprietorships, self-employed individuals, independent contractors (including gig economy workers) described in the Small Business Act – with 500 or fewer employees may apply.
You can apply for the PPP at any lending institution that is approved to participate in the program through the existing SBA 7(a) lending program and additional lenders approved by the Department of Treasury. This could be the bank you already use, or a nearby bank. There are thousands of banks that already participate in the SBA's lending programs, including numerous community banks. 
Paycheck Protection Program Resources
Economic Impact Disaster Loans
Low-interest disaster loans are also now available through the U.S. Small Business Administration to help Louisiana businesses through this crisis.
CLICK HERE to apply online. 
Depending on your circumstances, you may qualify for a loan of up to $2 million, at a rate as low as 3.75% (or, 2.75% for a non-profit organization), with favorable terms of repayment (up to 30 years).
In addition, businesses with an existing SBA loan may be allowed to defer payments for up to 6 months, pending approval by individual lenders.
Please don't hesitate to call my office with any questions. You may also contact the SBA at (800) 659-2955, or the New Orleans regional SBA office at (504) 589-6685.
For the latest SBA small business guidance and resources, click here.
**UPDATE**
Many Louisiana small business owners have contacted me about long wait times, website crashes, and other problems preventing them from completing the SBA disaster loan application. I am working with the SBA to address these issues. Click here to read more.
DO YOUR PART: STOP THE SPREAD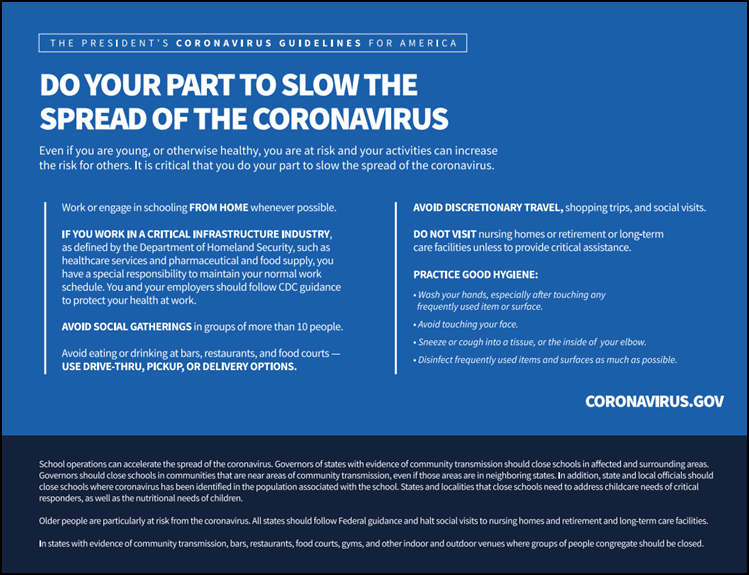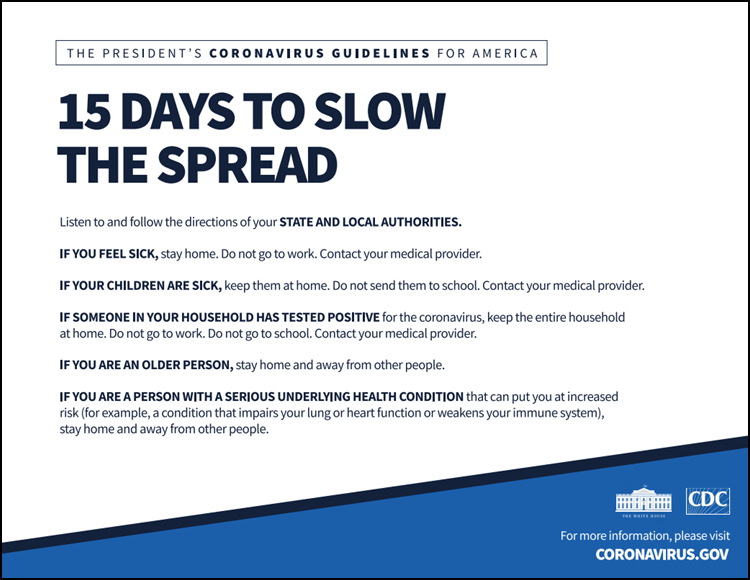 FEDERAL RESOURCES
For background and the most up-to-date information, please visit the Centers for Disease Control and Prevention Coronavirus Disease 2019 website: HERE

What you should know:
Situation Updates:
Information for Families and Households:
Information for Schools and Childcare Providers:
Information for Businesses:
Information for Travel and Transportation:
Information for Healthcare Providers, First Responders, and Research Facilities:
Information for Community Events and Gatherings:
Information for Military Response:
FEDERAL RESOURCES